Appearance Medicine / Cosmetic Injectables
Anti-wrinkle injections eliminate wrinkles while dermal fillers provide a youthful "lift". These treatments are administered by a New Zealand Registered Nurse.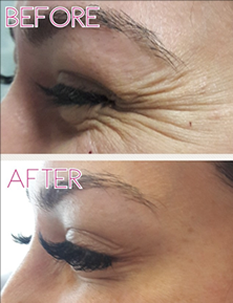 Anti Wrinkle Injections
Anti wrinkle injections are a form of appearance medicine used to remove, or decrease the appearance of, facial wrinkles. Practitioners of cosmetic medicine have been using these injections to treat facial wrinkles for the last 25 years, and today it's the most popular cosmetic treatment in the world with over six million treatments annually.
As a non-surgical, affordable, and effective treatment, it's perfectly safe to continue treatment for decades, and just as safe to stop after one.
Anti wrinkle injections can be used for treatment of wrinkles to your forehead, frown lines, crows feet, eyebrow lift, bunny lines, chin dimpling, gummy smiles, jawline jowls, lip lines or for a "lip flip".
Appearance medicine has become less stigmatised, more accessible, and actually, rather common. There's no single patient profile - treatments are available for all adults regardless of age or sex, whether addressing wrinkles or as a preventive measure to cease line formation.
The wrinkle-free effects of injections last for three to four months per treatment. We recommend having a top up done after three months.
We offer payment plans.
Anti Wrinkle Injection Pricing
Personalised consultation - Free (15 mins)
Anti Wrinkle Injections - $17 per unit* (30 mins approx.)
To give you an idea of unit quantity, the most common treatments are listed below with an approximation of unit requirements.
Frown lines/glabella (can help with migraines/headaches) - 20 units.
Forehead - 8-20 units.
Crows feet - 10 units each eye (20 units total).
Bunny lines (lines on each side of your nose when you scrunch your nose up) - 6 units.
Nasolabial/gummy smiles. 2-6 units
Mouth frown (when the corners of your mouth turn down) - 10-20 units.
Lip lines/"lip flip" (where your lips' borders protrude to make them look more lucious without adding volume) - 7 units.
Chin dimpling - 3 units.
Hyperhydrosis (underarm sweating - treatment will stop underarm sweating for nine to twelve months) - 100 units.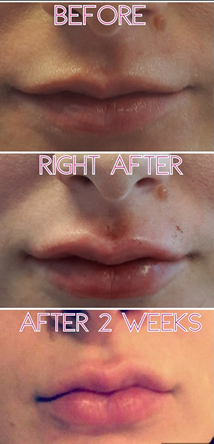 Dermal fillers
A dermal filler is a type of appearance medicine that restores a youthful volume to the face. Fillers are applied to soft facial tissues in the form of an injection, most commonly used to reduce wrinkles and lines, and to enhance facial contour.
Dermal fillers are made from a clear gel, and when injected they prompt your body to produce more collagen and elastin. These two proteins are essentially responsible for a youthful appearance, and as the body ages, production of both collagen and elastin decreases.
The gel is produced from a carbohydrate that naturally occurs in skin tissue. It's not a matter of "adding" a filler, it's merely restoring that which we naturally lose with age.
Note that dermal fillers are not a one-size-fits-all treatment. They can be used to treat fine lines and wrinkles, to add volume to the lips and cheeks, or for re-sculpting the jawline, chin, and other prominent facial features. They can soften features, or add some lift. Though flexible, dermal fillers can be used by a skilled technician in a variety of ways to achieve the desired result. The most common areas are:
Nasolabial lines (lines located on either side of the mouth, known as smile or laugh lines)
Marionette Lines (lines that run from the corners of the mouth downward)
Jawline contouring
Jowls (excess or saggy skin on the neck, just below the jawline and chin)
Lips (for plumping/adding volume)
Lip lines/smoker lines (stops bleeding lipstick)
Turned down mouth corners
Increasing the chin profile
Fillers can last from six weeks to eighteen months, depending on the treatment.
We use a topical numbing cream and provide an ice pack for all filler procedures. The filler also contains a local anaesthetic which helps to make the experience more comfortable.
Dermal filler pricing
Personalised consultation - Free (15 mins)
Light filler (lasts six weeks - three months) - $550 per 1ml syringe (45 mins)
Deep filler (lasts six - twelve months) - $600 per 1ml syringe (45 mins)
Volume filler (lasts 12 - 18 months) - $650 per 1ml syringe (45 mins)