Lash Extensions
Using the certified 100% isolation technique, our trained Lash Specialists work lash by lash, delicately extending your own lashes so they feel completely natural and are safe for your eyes.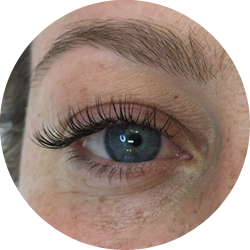 Classic Lash Extensions
Classic lash extensions are one extension applied onto one natural lash. A typical full set of classic lash extensions can vary from 40 up to 150 extensions per eye, depending on how many natural, healthy lashes you have to begin with. Light and subtle, classic lash extensions come in different lengths and thicknesses and are suitable for clients wanting a natural yet noticeable look.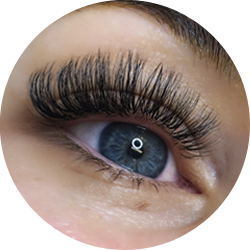 Russian Volume Lash Extensions
Russian Volume lash extensions (also known as 3D - 6D lashes) are three to six ultra fine extensions applied onto one natural lash. Typically, Russian Volume lash extensions are created by hand at the time of application. It's a highly advanced technique that takes a long time to refine and perfect. Russian Volume lash extensions should only be applied by experienced and skilled technicians. When executed correctly, your lashes will look amazing, but anything less than specialist work can leave a lot to be desired.
A lot of places claim to offer the Russian Volume treatment, but all too often the incorrect techniques are applied and this can damage your natural lashes. We always recommend doing some research or checking out customer testimonials before booking an appointment at a new beauty salon or lash bar.
A typical full set can have 150 to 300+ extensions per eye, depending on how many natural healthy lashes you have to begin with. Russian Volume lashes are lightweight and glamorous - perfect for everyday wear or special occasions.
Infills
Infills are recommended every 2-3 weeks, though to qualify as an infill you have to have more than 20 extensions left (per eye) from your previous appointment with us. Outside of this, you will be charged for a full set.
For infills originating from another salon, you must book a minimum 60 minute appointment.
Infill pricing is based on time - additional time outside of your requested appointment time will be charged $20 per 15 minutes. Six weeks or more will be classed as a new set.
Before Appointment
If you're booking with us for the first time, please arrive five minutes before your appointment time to complete our consultation form.
To get the best results for your lashes, you'll need to remove your eye makeup - mascara in particular - before your appointment. We want you to get the most out of your booking, which means more time adding extensions and less time removing makeup. We provide wipes for makeup removal, but please arrive early if you need to use these amenities. We can remove eye makeup if necessary, but note that this incurs a charge of $20 per 15 minutes with a minimum charge of $20.
We recommend that you avoid coffee, energy drinks, and alcohol for two hours prior to your appointment time. It's also best to wash your hair the night before, as you'll be required to keep your lashes away from water for up to 48 hours after your appointment.
After Appointment
It's critical that you avoid water and steam for 48 hours after your extensions are complete. If they do get wet - lightly touch them against a tissue to remove droplets, and use a hairdryer on a cool setting to get rid of any remaining moisture. After 48 hours, you may resume washing your lashes. Use a foam wash for the best results, and remember, be gentle!
You'll also need to be careful with cosmetics - oil-based products can damage your lashes, so be mindful of what you're using. Oil-free cosmetics and makeup removers are the best way to go. We recommend avoiding mascara, and can offer fuller looking lash extensions as an alternative instead. Perming or tinting on top of your new lashes should also be avoided.